Cloudy and cold days arrived, and in my kitchen began the best season for cooking.
This is a very quick to cook but really yummy plate, from mountains origins:
the TARTIFLETTE.
The original recipe is from France and they use the Reblochon cheese, but I prefer to italianize it with Fontina cheese.
Le giornate nuvolose e fredde sono arrivate e nella mia cucina è iniziata la stagione migliore per cucinare.
Questo è un piatto molto veloce da cucinare ma davvero goloso, di origine montana:
la TARTIFLETTE.
La ricetta originale è Fracese e loro usano il formaggio Reblochon, ma io preferisco italianizzarla con il formaggio Fontina.
Step 1: cut potatoes in small slices.
1° passo: tagliare le patate a fettine.
Step 2: Let the potatoes fry only a little in a pan with oil (I don't like onions, but if you do, you can brown some of it in the oil, before putting the potatoes). Don't worry if the potatoes are not completelly browned, they will continue cooking in to the oven.
2° passo: far friggere solo leggeremente le patate in una padella con dell'olio (io non amo le cipolle, ma se a voi piacciono, potete farne rosolare un po' nell'olio prima di aggiungervi le patate). Non preoccupatevi se le patate non sono completamente dorate, continueranno a cuocere anche nel forno.
Step 3: grossly slice some bacon (or if you like more, some speck) and put into the pan with the potatoes.
3° passo: tagliate a fettine grossolanamente un po' di pancetta (o se preferite va bene anche un po' di speck) e mettetelo nella padella con le patate.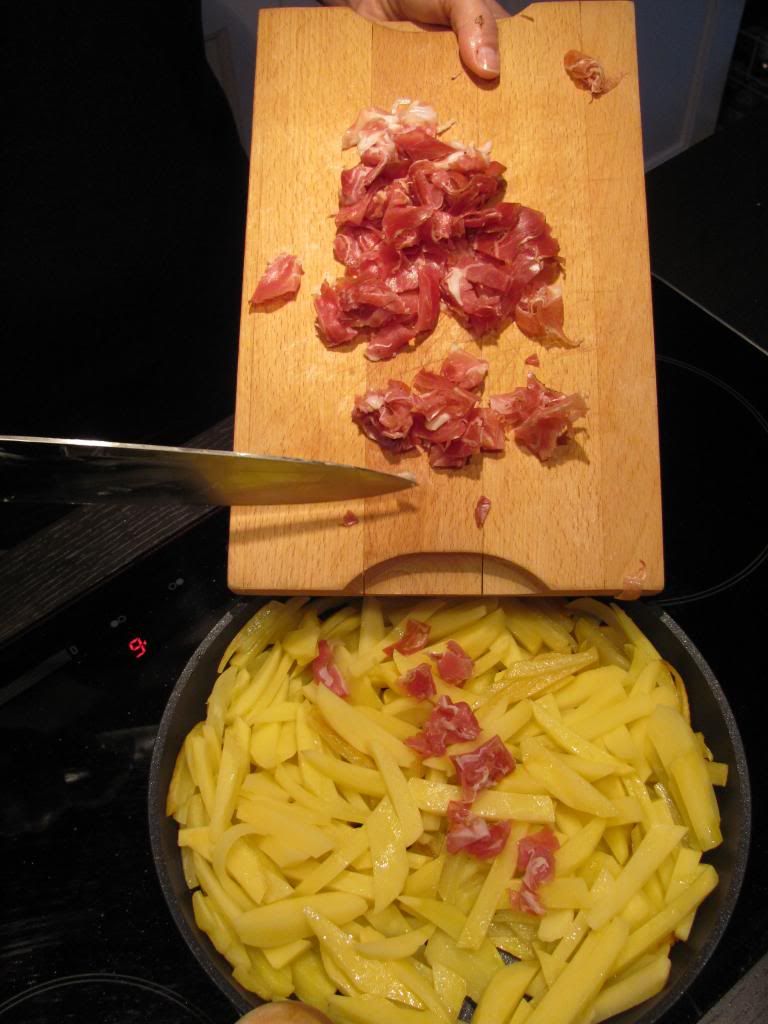 Step 4: put the potatoes with the bacon into a baking pan, then slice the Fontina (or if you prefer the french version, the Reblochon) into large slices, and put them all over the baking pan.
4° passo: mettete le patate e la pancetta in una teglia da forno, poi tagliate la Fontina (o se preferite la versione francese, il Reblochon) in larghe fette e stendetele sopra a tutta la teglia.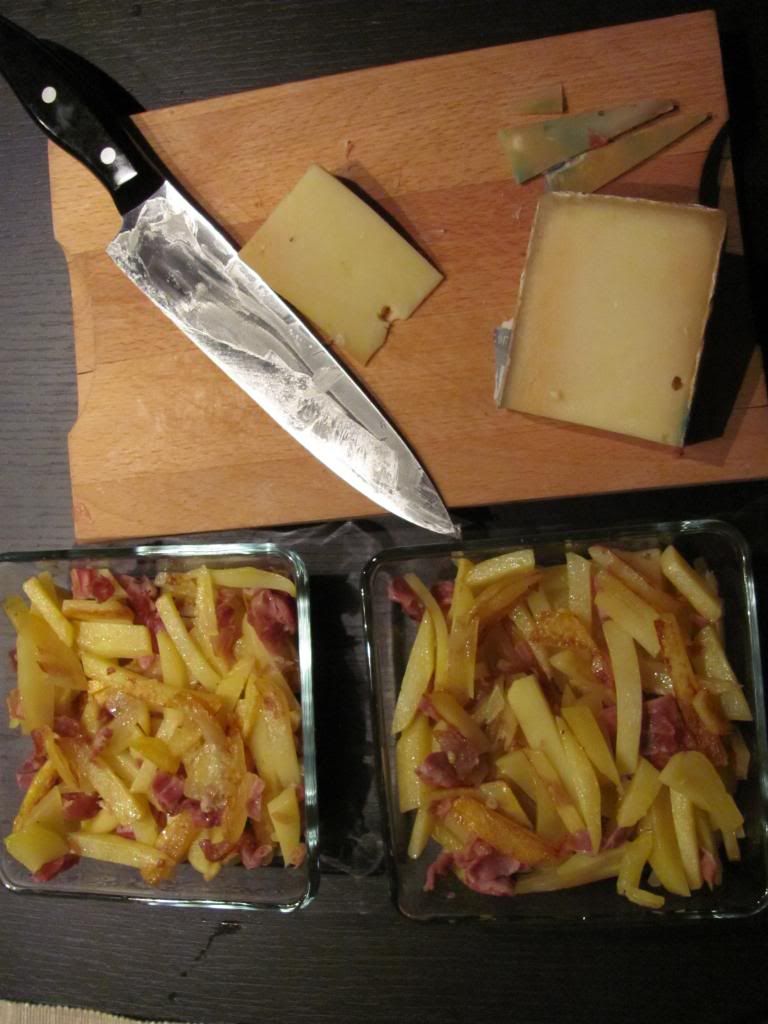 Step 5: put the baking pan into the oven for about 20 minutes at 180° C.
5° passo: mettete la teglia nel forno per circa 20 minuti a 180° C.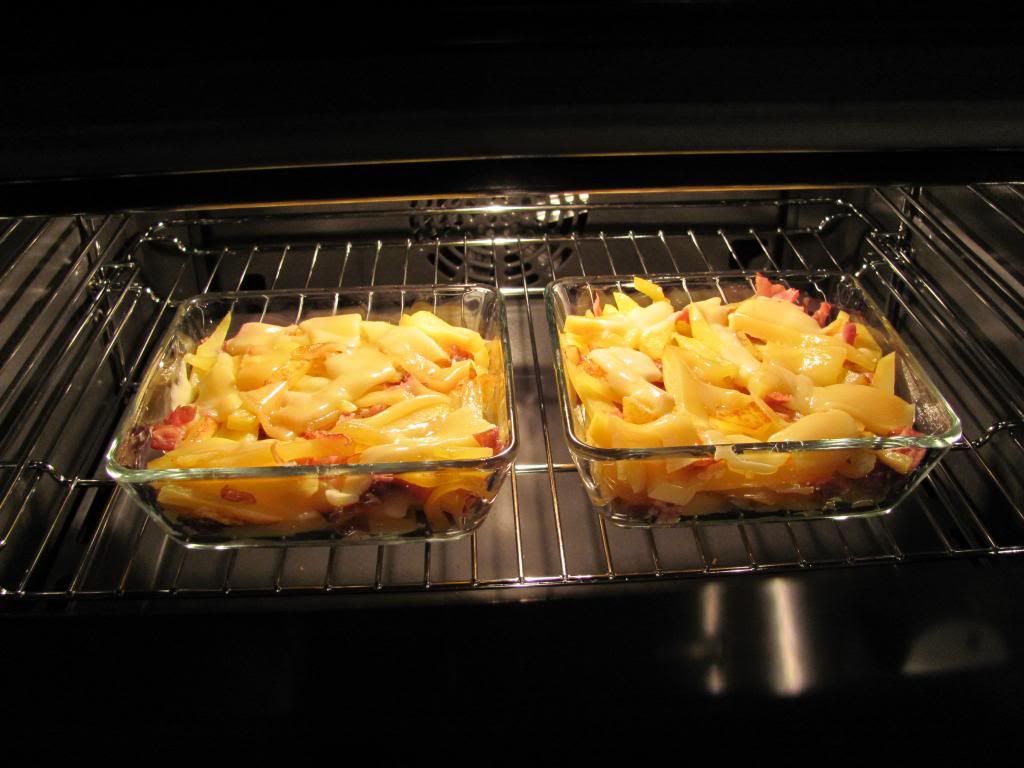 Bon Appetit! 🙂
The Cihc is: try it drinking a good red wine, as the Torrette from Valle d'Aosta.
Cihc è: provatelo bevendo un buon vino rosso, come il Torrette della Valle d'Aosta.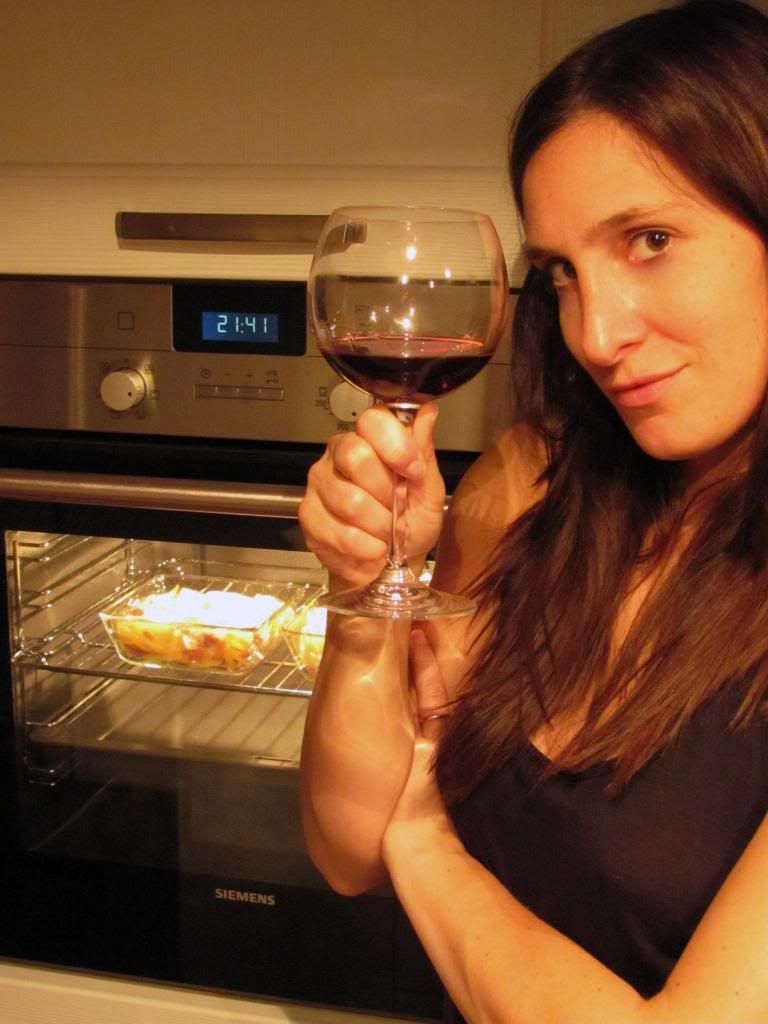 WHAT DO YOU NEED (for 4 People):
350 gr potatoes
150 gr bacon
Fontina as you like