It often happen to came back home late in the evening, after a long working day.
Your guest or you boyfriend/husband is arriving and haven't you cooked anything yet?
Don't worry, here you are a quick but good looking recipe.
Spesso capita di tornare a casa la sera tardi, dopo una lunga giornata di lavoro.
Il tuo ospite o il tuo ragazzo/marito sta per arrivare e non hai ancora preparato nulla?
Non preoccuparti, eccovi una ricetta veloce ma di bell'aspetto.
STEP 1:
Boil the peas in a small quantity of water // Far bollire i piselli in poca acqua.
If you want it more thick, use less water and vice versa // Se la volete più densa, usate meno acqua e viceversa.
STEP 2:
While the peas are cooking, slice the bacon into small sticks and make them toast into a pan. // Mentre i piselli cuociono, tagliate la pancetta in piccoli bastoncini e fateli do rare in una padella.
STEP 3:
When the peas are cooked, low the cooker power and whisk them with an hand blender. While doing this, add into the pot the pecorino cheese that you have sliced into little cubes and continue whisking while obtain a uniform compound. // Quando i piselli sono cotti, abbassare la pottenza dei fornelli e frullare con un frullatore ad immersione. Mentre fate questo, aggiungete nella pentola il formaggio pecorino che avete tagliato a piccoli cubetti, e continuate a frullare fino ad ottenere un composto omogeneo.

STEP 4:
Place the soup in a soup plate or in a bowl and decorate it with the bacon//
Impiattate la crema in un piatto fotto o in una coppetta e decorate con il bacon.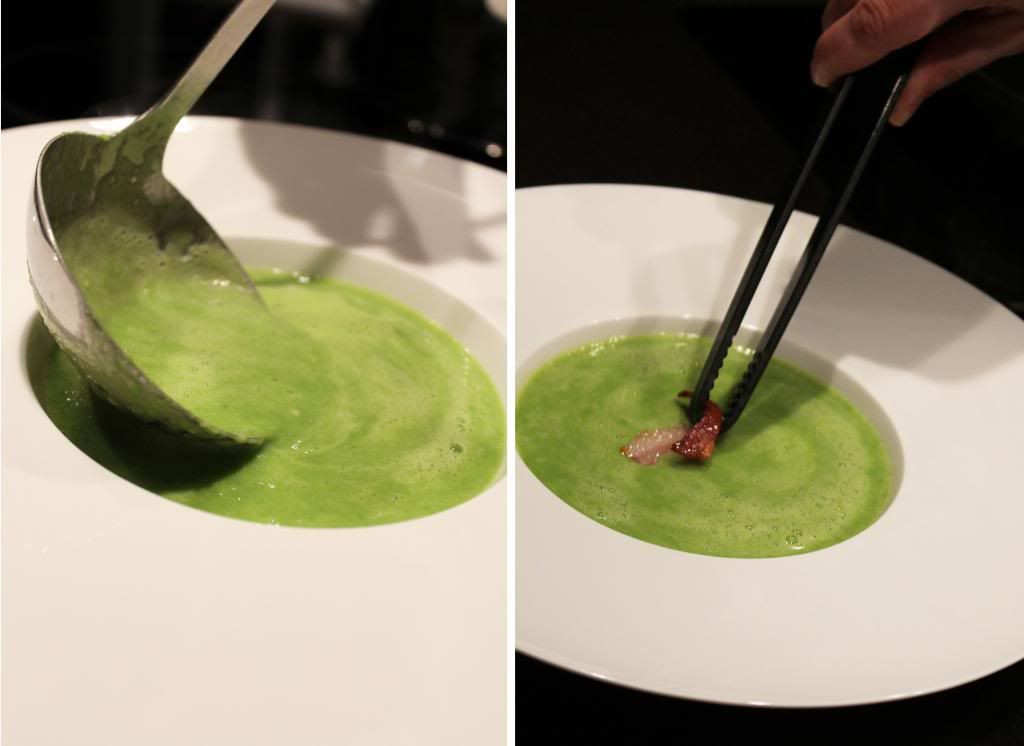 Add oil or pepper if you like it and the dinner is ready. // Aggiungete olio o pepe se vi piace e la cena è pronta.
The Cihc is: being able to amaze without to many difficulties.
Cihc è: riuscire a stupire senza fare troppa fatica.
WHAT DO YOU NEED (for 2 people):
9/10 handful of frozen peas // manciate di piselli surgelati
3 thick slices of bacon // fette spesse di pancetta
100 gr. Pecorino Romano cheese // formaggio pecorino romano
Oil and pepper as you like // Olio e pepe a piacimento.